Davie Academy at Excelsior on 1/21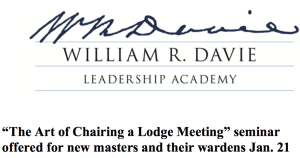 We had a great Davie Academy Session on January 21st at Excelsior. Freemasons from around the region came out to learn how to run effective and efficient lodge meetings.
Topics included creating an agenda, modifying the order of business for efficiency, principles of organization, chairing the meeting, Masonic parliamentary usage, and proper handling of motions and voting.