Blood Drive- Saturday 11/12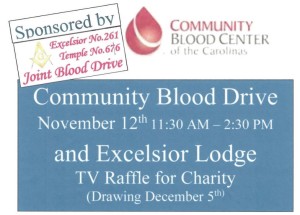 Excelsior 261 and Temple 676 held a blood drive on  Saturday, November 12th with the Community Blood Center of the Carolinas.  Hot dogs were served for lunch for everyone who donated.
We also sold raffle tickets for $10 each with the prize being a 32″ LG LED TV for a charity fundraiser. All proceeds went to the Masonic Home for Children at Oxford (MHCO).